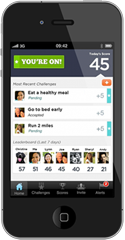 Last week, Joseph offered advice on how to conquer the snooze button and many readers chimed in with their own great tips for getting up early.
To help you conquer this habit and others, Joseph recommends downloading You're On!—the new iPhone app to help you keep good habits. You're On! helps you focus on your "vital" behavior and earn points for completing it daily. You can also share and complete challenges with your friends to stay motivated.
Visit the iTunes store to download this free app for the iPhone or iPad.