WHAT IS CLP?
The Crucial Learning Platform is a web browser-based, easy-to-use delivery platform included with a Crucial Learning course purchase.
Content is contained and delivered within the platform, eliminating the need for a separate meeting application such as Zoom. CLP simply requires an internet connection and web browser, eliminating additional software installation and downloads. The platform offers minimal setup, easy login credentialing, and a streamlined and automated experience.
Administrators use CLP to invite learners to courses, track participation and engagement, and track licenses. Trainers use CLP to deliver the courses, and learners use the platform to attend courses, access digital learner materials, and engage in pre- and post-learning activities.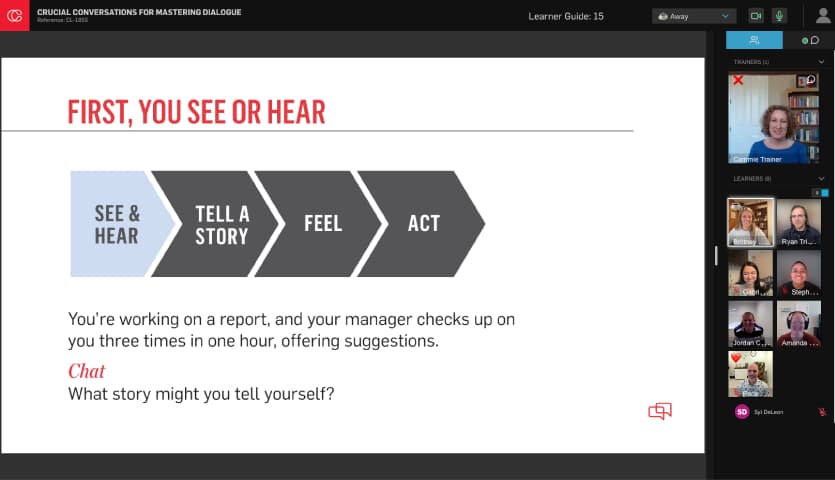 INTERACTIVITY
Learners can interact with the course in numerous ways such as video, audio discussion, chat, status, and polls. And if learners forget their learner guide, they can download a digital copy right from the platform.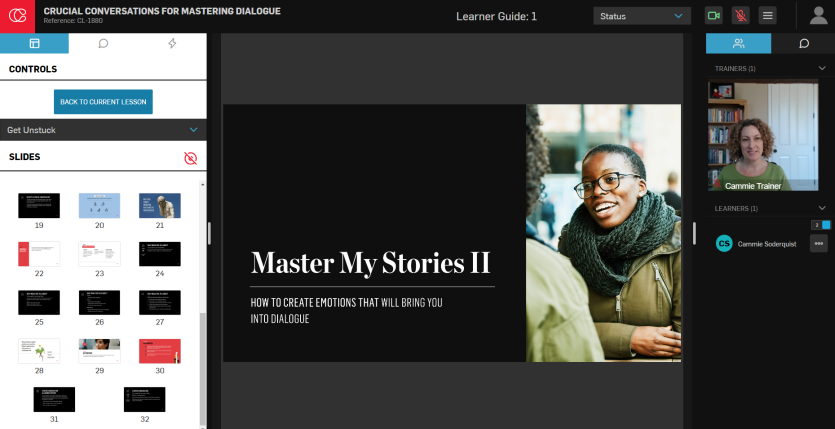 SLIDE NAVIGATION
Slide navigation is a breeze. Thumbnails allow trainers to look ahead easily and navigate anywhere in the course. Other tools, such as annotation and a timer, give trainers the capability to manage activities and focus on key instructional points.
BREAKOUTS
Setting up breakout groups is a fast and easy process. Groups can be created manually or auto-generated based on chosen criteria and include a private chat area and discussion slide for learners. Breakout groups also automatically stay the same for all sessions so trainers don't have to re-create them each time.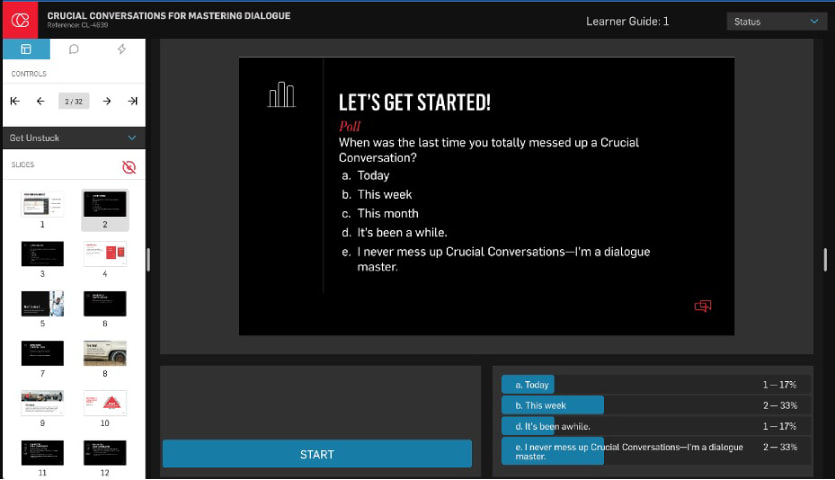 POLLS
Polls are integrated right into the platform and can be launched with a single click. Trainers can see poll answer progress, and both trainers and learners can see the results in real time.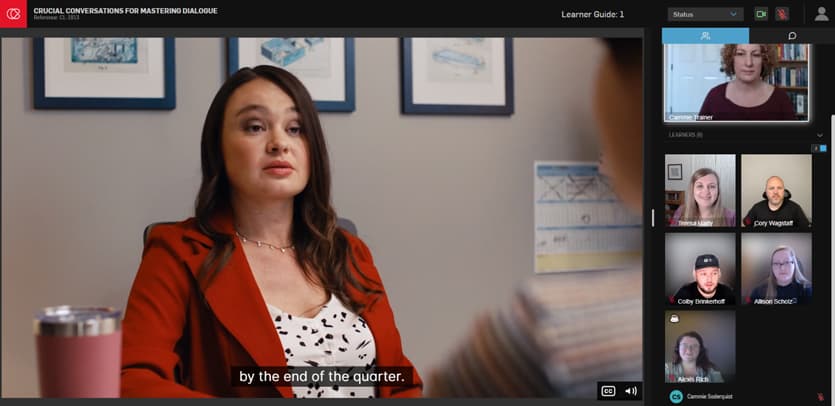 ACCESSIBILITY
CLP features an accessible learner guide, closed captioning, chat, and adjustable formatting tools.
The quality is beautiful! It's like it's running on my desktop. As a trainer, CLP is extremely intuitive. I can't wait to use this.
Wells Fargo
CLP is much better than other virtual meeting software. I don't have any issues with the platform and was very comfortable doing breakouts even though I hadn't practiced them before our session. It was so easy.
U.S. Veteran Affairs
It's so great to see innovation in this space instead of using someone else's platform to accomplish what they're trying to accomplish. CLP is fantastic!
Global finance company
I'm really excited about having the content and platform all in one place.
Oklahoma State University
WHAT IS THE EARLY ACCESS PROGRAM?
By invitation, Crucial Learning clients can join the early access program and begin using CLP. Virtual learning is available now, with on-demand and in-person training options available soon. Over a period of time, CLP will be available to all clients who qualify.
CONFIRM ELIGIBILITY
Early access to CLP is by invitation only; in addition, you must also be able to answer affirmatively to the following questions:
•  Are you a certified trainer in Crucial Conversations for Mastering Dialogue, Crucial Conversations for Accountability, or Getting Things Done?
•  Do you have active Crucial Learning licenses?
•  Are you teaching the course virtually? (On-demand and in-person options available soon.)
•  Are you delivering the course in the US?
•  Do you pass the system check?